Intermodal Domestic Shipping Solutions


Intermodal freight shipping containers are easily moved from one means of transportation to another, loaded and unloaded from train to truck. Full truckload (FTL) and less than truckload (LTL) intermodal shipping brokerage services are available from Direct Drive Logistics.
Direct Drive Logistics is your partner in Intermodal Freight Shipping. We have the dedicated, caring staff to find a cost-effective Intermodal shipping solution for your specific freight transportation needs.
Intermodal Freight Shipping Containers


Make the next move.
Logistics Options for Optimum Cost Efficiency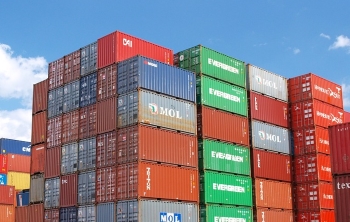 Intermodal freight carriers are an alternative to dry vans or trucks for domestic shipping.
In the logistics industry, many of our competitors make the mistake of putting too much emphasis on speedy travel times. They often actively seek out the quickest, most direct shipping routes in order to present their customers with the fastest arrival times, and avoid the extra work that would go into setting up multiple outlets for transportation. However, we here at Direct Drive Logistics understand that clients who may not be as pressed for time are usually better off with a reputable intermodal shipping route. Rushed shipments can lead to miscalculation and inefficiency.
As long as everything is established correctly through a professional logistics company like Direct Drive, intermodal shipping routes can efficiently use a combination of different transportation methods in order to make sure that your cargo arrives safely while managing to drastically cut overall freight costs.
How Intermodal Shipping Works
Due to the fact that multiple different forms of transportation come into play with intermodal shipping, if every minute detail of the cargo's transit route is not meticulously taken into consideration, you may find yourself facing costly delays, missed deadlines, and exceptionally angry business associates. This is why it's important to use Direct Drive Logistics' team of industry-leading intermodal logistics brokers and shipping specialists.
Compared to traditional methods of domestic shipping, Direct Drive Logistics has effectively streamlined the shipping process in order to provide clients with an economical shipping option that is specifically tailored for cargo that will be traveling a long distance in and out of metropolitan areas.
We offer a variety of different sized containers that can be quickly, safely, and efficiently transferred from one means of transportation to another ensuring that the shipment in question spends less time sitting stationary, and more time in transit.
Shipping Containers Available in Multiple Sizes
Unlike other logistics companies that offer limited or no options in terms of shipping container sizes, Direct Drive Logistics currently utilizes a selection of different cargo vessels available in different dimensions. Ranging from 20 to 40 feet our intermodal cargo brokers will help set you up with whatever selection fits you best. Currently, our available containers include:
From trains to automobiles, the substantial amount of money that you are able to save using multiple methods of transportation is certainly worth it if you can afford the cost of a few additional days en route. Facing a deadline and in need something a little faster? Looking for temperature-controlled or other specialized shipping needs? Check out some of our other means of cargo shipment, because Direct Drive will transport, store, warehouse, and handle all of your company's logistic needs.
Your full-service freight company for shipping in the United States
Direct Drive Logistics is your partner for brokerage, US freight forwarding, or a full-fledged partnership as a third party logistics company. Get in touch and let's discuss your shipping needs.
Broker intermodal freight
BY CITY
Broker intermodal freight
BY STATE
Get a Free Online Freight Quote for intermodal freight from the nationwide brokers at Direct Drive Logistics.