Direct Drive Logistics is a full-service logistics
provider in Baltimore
Your Partner for US Domestic & International Freight Solutions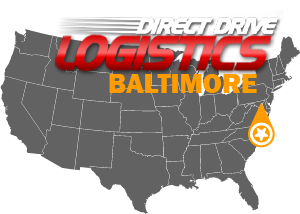 Located in the United States, Direct Drive Logistics boasts the reach of an international American logistics company with local personal service that can't be matched. Direct Drive Logistics is the partner you want for all your shipping needs. We offer logistics solutions for all of Maryland including Baltimore to Atlanta, Baltimore to Boston, Baltimore to Charlotte, Baltimore to Chicago, Baltimore to Cincinnati, Baltimore to Cleveland, Baltimore to Columbus, Baltimore to Dallas, Baltimore to Denver, Baltimore to Detroit, Baltimore to Houston, Baltimore to Indianapolis, Baltimore to Kansas City, Baltimore to Las Vegas, Baltimore to Las Angeles, Baltimore to Sacramento, Baltimore to San Antonio, Baltimore to San Diego, Baltimore to Tampa and Baltimore to Washington DC.
Direct Drive Logistics is flexible to accommodate your business' needs – whether it's brokering a single domestic shipment to or from Baltimore or forming a full-fledged 3PL partnership with diverse needs in trucking, air, ocean or rail freight.
Get a quick & free quote on shipments to & from Baltimore, Maryland.
Over the Road (OTR) Truck
Direct Drive Logistics is a reputable ground freight management partner in Baltimore, providing comprehensive solutions for full truckload (FTL) and less than truckload (LTL) freight management. We have a team of knowledgeable logistics experts and a trusted carrier network that will help drive your business forward. We offer a wide range of shipping containers and an impressive selection of trailer sizes, ensuring efficient and cost-effective shipping solutions for your business.
Full Truckload (FTL) Freight
When it comes to cost-effective and reliable full truckload (FTL) freight shipping in Baltimore, Direct Drive Logistics is the name to trust. Our dedicated team of freight logistics consultants will follow your shipment every step of the way, providing personalized attention and treating your shipment with the utmost care.
Light Truckload (LTL) Freight
Direct Drive Logistics offers customized volume less than truckload (LTL) solutions to help keep your business moving forward. Our team of freight management experts in Baltimore provides the same reliable services as our truckload freight shipping options, but at a more affordable cost.
Expedited Freight
For quick and dependable expedited freight shipping services in Baltimore, turn to Direct Drive Logistics. Our team is dedicated to providing efficient and timely service, ensuring your freight is delivered safely and on time. We understand the urgency of expedited shipments, which is why we offer a wide variety of shipping containers and trailer measurements to customize our services to your specific requirements.
Refrigerated Freight
Direct Drive Logistics is your trusted partner when it comes to safe and reliable transportation of temperature-controlled freight in Baltimore. We work with temperature-controlled freight carriers across the country to ensure your valuable cargo is stored and shipped at the correct specifications, guaranteeing timely delivery.
Heavy Haul Shipments
If you need cost-effective and reliable heavy haul shipping solutions in Baltimore, Direct Drive Logistics is your ideal partner. We work hard to find proven and trustworthy heavy haul drivers across the United States, ensuring the safe and timely delivery of your heavy or oversize freight.
Power-Only Freight
Direct Drive Logistics is the ideal partner for your power-only trucking needs across the United States. Our freight brokers work with top owner-operators to provide reliable and affordable power-only freight services. From Baltimore to any location across the country, we ensure the safe and timely delivery of your cargo. You can rely on us to handle your power-only freight with the highest level of attention and care.
Produce Shipments
Transporting produce in Baltimore requires extra care and attention due to its perishable nature. Direct Drive Logistics is equipped to handle this high-risk commodity, with the expertise and resources necessary to ensure the utmost care and safe and timely delivery of your produce.