Direct Drive Logistics is a full-service logistics provider in Las Vegas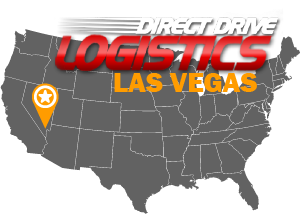 Your Partner for US Domestic & International Freight Solutions
Located in the United States, Direct Drive Logistics boasts the reach of an international American logistics company with local personal service that can't be matched. We are a 100% independently insured logistics outsource solution for companies in many different industries; we are flexible to accommodate YOUR business' needs – whether it's brokering a single domestic shipment to or from Las Vegas or forming a full-fledged 3PL partnership with diverse needs in trucking, air, ocean or rail freight. Direct Drive Logistics offers logistics solutions for the state of Nevada including Las Vegas to Atlanta, Las Vegas to Boston, Las Vegas to Chicago, Las Vegas to Houston, Las Vegas to Los Angeles, Las Vegas to Miami, Las Vegas to Milwaukee, Las Vegas to Minneapolis, Las Vegas to New York, Las Vegas to Orlando, Las Vegas to Philadelphia, Las Vegas to Phoenix, Las Vegas to Pittsburg, Las Vegas to Portland, Las Vegas to San Diego, Las Vegas to San Francisco, Las Vegas to Seattle, Las Vegas to St. Louis, Las Vegas to Tampa and Las Vegas to Washington DC.
For the best service at the lowest cost; Direct Drive Logistics is the partner you want for all your shipping needs. Get a free freight logistics quote on Las Vegas shipments.
Over the Road (OTR) Truck
Direct Drive Logistics is a trusted ground freight management partner in Las Vegas bringing you a full range of full truckload (FTL) and less than truckload (LTL) freight management services. Our logistics experts and our network of professional, reliable carriers propel your business forward. You'll find the perfect shipping method for your business with our broad selection of trailers and shipping containers.
Full Truckload (FTL) Freight
Direct Drive Logistics give Las Vegas businesses the best FTL freight shipping options to keep their businesses moving. Ship confidently with our real-time satellite tracking and excellent customer service, plus enjoy flexibility with shipping solutions tailored to meet your specific needs.
Light Truckload (LTL) Freight
Direct Drive Logistics offers Volume LTL shipping in Las Vegas to give you all the same benefits of our service at a budget-friendly price.
Expedited Freight
Direct Drive Logistics simplifies your expedited freight shipping needs in Las Vegas. Our logistics team responds with solutions immediately to get your most time-sensitive items moving without delay. We know the quickest routes. We know the best drivers. We know expedited freight shipping.
Refrigerated Freight
If you're shipping in Las Vegas heat, you need temperature-controlled freight carriers with great performance. Don't take a chance on fragile shipments- call Direct Drive Logistics to get confident, competent transportation for pharmaceuticals, food, precious artwork and more.
Heavy Haul Shipments
Direct Drive Logistics has the heavy haul shipping solutions you count on for your heaviest cargo and oversize loads. We work with experienced drivers and find you the best heavy haul transportation option for the right price.
Power-Only Freight
Direct Drive Logistics partners with you to give you power-only trucking in Las Vegas and wherever you need your shipments to go. Our years of experience working with the top drivers and owner-operators in the country combined with our extensive knowledge of the trucking industry let us offer competitive brokering prices for consistent, reliable power-only trucking services.
Produce Shipments
Protect your perishables from the harsh Las Vegas heat- call Direct Drive Logistics to find the perfect shipping solution to transport your produce promptly and safely.