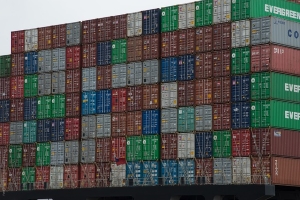 Utilize 20 ft international intermodal shipping solutions through Direct Drive Logistics if you need to move up to 10 pallets of 48" x 40" or 48" by 42" units (1,169 cubic feet of space). If you need more space for shipping, we also offer 40 ft and 45 ft international intermodal containers.
Direct Drive Logistics has years of experience coordinating reputable owner operators and drivers to ship freight internationally via truck, freighter and train. With the aid of our knowledgeable dispatchers, your international freight is shipped quickly and efficiently, slashing your shipping costs.
Freight Brokers find Full Truckload (FTL) Shipping Solutions Using Overseas Shipping Containers
When you need to ship heavy freight overseas for a long run, trust in Direct Drive Logistics to put together full truckload (FTL) shipping solutions to get the job done quickly at the lowest cost. Your freight is independently insured through Direct Drive Logistics, meaning when you work with us, you work with only us from start to finish in your international shipping. You'll have a hard time finding another independently insured logistics company that can promise the same.
Our freight logistics consultants work around the clock to ensure you get high paying 20 ft international intermodal loads, to minimize your shipping costs and keep money in your pocket. We pride ourselves on our dedication to the customer and ensuring your needs are met from departure to arrival.
Find out how to slash shipping costs and optimize your budget. Request a quote from Direct Drive Logistics today.