Direct Drive Logistics is a full-service logistics provider in San Francisco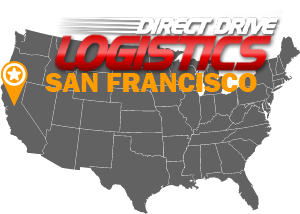 Your Partner for US Domestic & International Freight Solutions
Located in the United States, Direct Drive Logistics boasts the reach of an international American logistics company with local personal service that can't be matched. We are a 100% independently insured logistics outsource solution for companies in many different industries; we are flexible to accommodate YOUR business' needs – whether it's brokering a single domestic shipment to or from San Francisco or forming a full-fledged 3PL partnership with diverse needs in trucking, air, ocean or rail freight. Direct Drive offers freight brokering, logistics management, drayage service, and more for all of California including: San Francisco to Atlanta, San Francisco to Baltimore, San Francisco to Boston, San Francisco to Charlotte, San Francisco to Chicago, San Francisco to Detroit, San Francisco to Orlando, San Francisco to Philadelphia, San Francisco to Phoenix, San Francisco to Pittsburg, San Francisco to Portland, San Francisco to Sacremento, San Francisco to Salt Lake City, San Francisco to San Antonio, San Francisco to San Diego, San Francisco to Seattle and San Francisco to St. Louis.
For the best service at the lowest cost; Direct Drive Logistics is the partner you want for all your shipping needs. Get a free freight logistics quote on San Francisco shipments.
Over the Road (OTR) Trucking
Manage your ground freight and over-the-road (OTR) trucking operations by partnering with Direct Drive Logistics. We offer a comprehensive range of freight management services including full truckload (FTL) and less than truckload (LTL) options to help drive your business towards success. You can choose from our extensive selection of shipping containers and trailer dimensions to find the most efficient and cost-effective shipping solutions. Our fleet of trucks and trailers is diverse and includes various types such as Flatbed Trucks/Trailers, Dry Van Trailers, Conestoga Trailers, Curtainside Flatbed Trailers, Refrigerated Freight Carriers, Power-Only Trucking, and more.
Full Truckload (FTL) Freight
Direct Drive Logistics is your go-to choice for cost-effective and dependable full truckload (FTL) freight shipping in San Francisco. Our FTL loads range from 15,000 to 45,000 pounds, and our experienced team of freight logistics consultants provides personalized attention and care to your shipment every step of the way. You can easily request a quote for our FTL freight shipping services, but keep in mind that rates may vary depending on the shipment's origin and destination.
Light Truckload (LTL) Freight
Direct Drive Logistics is the trusted partner for freight management in San Francisco, offering customized solutions for less than truckload (LTL) shipping based on your specific volume requirements. Our Volume LTL freight carriers are perfect for transporting five or more pallets, providing you with the same reliable services as our truckload freight shipping options but at a more cost-effective rate. Furthermore, we offer a range of truckload freight shipping solutions tailored to meet your unique shipping requirements. You can trust Direct Drive Logistics to handle your freight with the utmost care and efficiency.
Expedited Freight
Direct Drive Logistics is a domestic & international expedited freight broker. We will respond immediately with the right solution to get your freight delivered safely and on time. With our round-the-clock freight shipping and fast online quotes, we provide efficient and hassle-free service. Direct Drive Logistics provides 24/7 freight shipping solutions ensuring time-critical shipment requirements are met.
Refrigerated Freight
Direct Drive Logistics offers temperature-controlled freight services for perishable items, pharmaceutical products and more. Our customized refrigerated transportation solutions cater to your specific freight shipping requirements. Our full truckload (FTL) or less than truckload (LTL) services will get the job done.
Heavy Haul Shipments
Direct Drive Logistics brokers heavy haul shipments nationwide. If you need reliable and cost-effective heavy haul shipping solutions in San Francisco, Direct Drive Logistics is your trusted partner. Our 99.9% claim-free freight delivery record speaks for itself. Expedited box trucks and cargo vans come equipped with heavy-duty hydraulic liftgates to help drivers and owner-operators load and unload heavy freight.
Power-Only Freight
Direct Drive Logistics provides power-only trucking solutions nationwide and in San Francisco. Our freight brokers coordinate with the best owner operators for power-only trucking across the United States. Your cargo will be safe and be delivered on time. Our large network and years of experience means we receive volume discounts for our services. We pass discounts directly to you!
Produce Shipments
Finding a driver on an online produce load board may work if you've got a pile of rocks to move, but perishables require special care. Not only do you need a rig with state-of-the-art refrigeration, you need a driver with experience. Not every freight broker is equipped to handle high-risk commodities. Direct Drive Logistics is a trusted produce broker and guarantees your produce will be handled with the utmost care.