Direct Drive Logistics is a full-service logistics provider in Laredo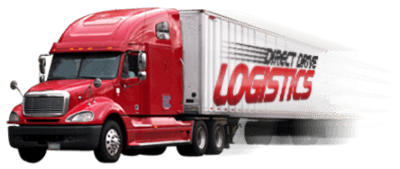 Your Partner for US Domestic & International Freight Solutions
Located in the United States, Direct Drive Logistics boasts the reach of an international American logistics company with local personal service that can't be matched. We are a 100% independently insured logistics outsource solution for companies in many different industries; we are flexible to accommodate YOUR business' needs – whether it's brokering a single domestic shipment to or from Laredo or forming a full-fledged 3PL partnership with diverse needs in trucking, air, ocean or rail freight. The freight brokers at Direct Drive Logistics offer logistics solutions for Texas including Laredo to Canada, Laredo to Chicago, Laredo to Houston, Laredo to Indianapolis, Laredo to Kansas City, Laredo to Los Angeles, Laredo to Milwaukee, Laredo to New York and Laredo to Phoenix.
For the best service at the lowest cost; Direct Drive Logistics is the partner you want for all your shipping needs. Get a free freight logistics quote on Laredo, TX shipments.
Over the Road (OTR) Trucking
Direct Drive Logistics is a leading transportation service provider specializing in the safe and efficient transport of goods over long distances. With a large fleet of modern trucks and a team of experienced drivers, we are committed to delivering your goods on time and in perfect condition. Our Ground Freight Management Solutions include flatbed trailers, dry van trailers, conestoga trailers, refrigerated trailers, power-only trucking and more.
Full Truckload (FTL) Freight
Direct Drive Logistics is your trusted and cost-effective full truckload (FTL) freight shipping partner in Laredo, serving coast-to-coast destinations. Full truckload (FTL) loads are more than 15,000 pounds and less than 45,000 lbs. FTL shipments are usually the only shipment on the trailer to the destination. Rates usually differ by location and destination. Our team of dedicated freight logistics consultants is committed to following your shipment every step of the way, providing personalized attention and treating your shipment as if it were our own.
Light Truckload (LTL) Freight
Direct Drive Logistics, your trusted freight management partner in Laredo, offers customized volume less than truckload (LTL) solutions to keep your business moving forward. If you are looking to transport 5 pallets or more, Direct Drive Logistics has the volume LTL freight carriers for your unique freight transportation needs. With our Volume LTL freight shipping, you can enjoy the same reliable services as our truckload freight shipping options, but at a more affordable cost.
Expedited Freight
For fast and reliable expedited freight shipping services in Laredo, turn to Direct Drive Logistics. Our team is dedicated to providing speedy and efficient service, ensuring your freight is delivered safely and on time. We understand the urgency of expedited shipments, which is why we respond immediately with the right solution to meet your needs. Direct Drive Logistics provides 24/7 freight shipping solutions ensuring time-critical shipment requirements are met.
Refrigerated Freight
Whether you are shipping a full truckload (FTL) or less than truckload (LTL) of fresh food to the next major city or shipping pharmaceuticals across the nation, Direct Drive Logistics has the refrigerated transportation solution for your specific freight shipping needs. We work with temperature-controlled freight carriers across the country to ensure your valuable cargo is stored and shipped at the correct specifications and delivered on time.
Heavy Haul Shipments
If you need reliable and cost-effective heavy haul shipping solutions in Laredo, Direct Drive Logistics is your trusted partner. Our team works diligently to find proven and trustworthy heavy haul drivers throughout the United States to ensure the safe and timely delivery of your heavy or oversize freight. Our 99.9% claim-free freight delivery record speaks for itself.
Power-Only Freight
Direct Drive Logistics provides nationwide power-only trucking solutions with efficient, responsible and affordable services. Our freight brokers coordinate with the best owner-operators for power-only trucking across the United States, ensuring safe and on-time delivery for your cargo. Our large network and years of experience means we receive volume discounts for our services, and we pass these discounts directly on to you.
Produce Shipments
Hauling produce entails risks, unlike other types of freight. Because fruits and vegetables are perishable, extra care is needed and time is of the essence. Not every freight broker is equipped to handle this high-risk commodity. However, Direct Drive Logistics is a trusted produce broker and guarantees your produce will be handled with the utmost care.