Direct Drive Logistics is a full-service logistics provider in Indianapolis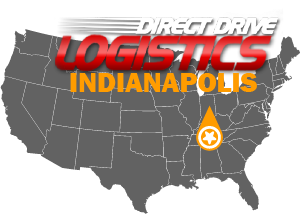 Your Partner for US Domestic & International Freight Solutions
Located in the United States, Direct Drive Logistics boasts the reach of an international American logistics company with local personal service that can't be matched. We are a 100% independently insured logistics outsource solution for companies in many different industries; we are flexible to accommodate YOUR business' needs – whether it's brokering a single domestic shipment to or from Indianapolis or forming a full-fledged 3PL partnership with diverse needs in trucking, air, ocean or rail freight. The Freight Brokers at Direct Drive Logistics provide logistics solutions for all of Indiana including Indianapolis to Atlanta, Indianapolis to Baltimore, Indianapolis to Boston, Indianapolis to Chicago, Indianapolis to Cleveland, Indianapolis to Kansas City, Indianapolis to Las Vegas, Indianapolis to Miami, Indianapolis to Milwaukee, Indianapolis to Minneapolis, Indianapolis to New York, Indianapolis to Orlando, Indianapolis to Philadelphia, Indianapolis to Phoenix, Indianapolis to Pittsburg, Indianapolis to Portland, Indianapolis to Salt Lake City, Indianapolis to San Diego, Indianapolis to San Francisco, Indianapolis to St. Louis, Indianapolis to Tampa and Indianapolis to Washington DC.
For the best service at the lowest cost; Direct Drive Logistics is the partner you want for all your shipping needs. Get a free freight logistics quote on Indianapolis shipments.
Over the Road (OTR) Truck
Direct Drive Logistics is a reliable ground freight management partner in Indianapolis. Our expert logistics team and dependable carrier network offer a complete range of full truckload (FTL) and less than truckload (LTL) freight management solutions to propel your business. Our array of shipping containers and trailer sizes ensures efficient, cost-effective storage and delivery for your cargo.
Full Truckload (FTL) Freight
Direct Drive Logistics is your partner in FTL freight shipping for coast-to-coast confidence in your cargo's handling, storage and delivery. We monitor your shipment and provide personalized, professional and attentive service up to successful, safe delivery.
Light Truckload (LTL) Freight
Need a budget-friendly shipping solution with proactive customer service? Choose Volume LTL shipping with Direct Drive Logistics. You'll get the same reliable services as our FTL options at a lower cost to get your shipment moving while staying on or under budget.
Expedited Freight
You need fast and reliable expedited freight shipping from Direct Drive Logistics to handle your most time-sensitive items with undivided attention and urgency. Direct Drive Logistics partners with experienced drivers who understand your needs and get your cargo delivered safely, right away.
Refrigerated Freight
Indianapolis trusts Direct Drive Logistics to connect them with safe and reliable temperature-controlled freight carriers. From artwork to food, pharmaceuticals and more, the dedicated logistics team at Direct Drive Logistics ensures your cargo will arrive on time and in perfect condition.
Heavy Haul Shipments
Direct Drive Logistics creates heavy haul shipping solutions for your biggest business needs. Whether you're hauling construction equipment, machinery, parts or other heavy-duty loads, the vetted, experienced drivers we call on will get your heavy and oversize loads to their destinations safely and with care.
Power-Only Freight
Direct Drive Logistics brings affordable and efficient power-only trucking options to Indianapolis for efficient shipping, nationwide. Our freight brokers vet, select and negotiate with the best owner-operators for power-only trucking across the United States, ensuring your cargo is cared for meticulously and delivered safely.
Produce Shipments
When you're shipping perishable produce, you need experienced, reliable drivers and the confidence of a broker with refrigeration breakdown coverage. Direct Drive Logistics connects you with drivers who care, so your shipments reach vendors and customers on time and in perfect condition.