Direct Drive Logistics is a full-service logistics provider in Chicago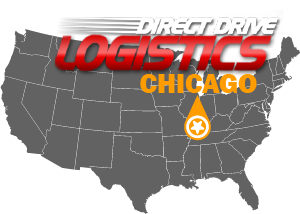 Your Partner for US Domestic & International Freight Solutions
Located in the United States, Direct Drive Logistics boasts the reach of an international American logistics company with local personal service that can't be matched. We are a 100% independently insured logistics outsource solution for companies in many different industries; we are flexible to accommodate YOUR business' needs – whether it's brokering a single domestic shipment to or from Chicago or forming a full-fledged 3PL partnership with diverse needs in trucking, air, ocean or rail freight. The freight brokers at Direct Drive provide logistics solutions for the state of Illinois including Chicago to Atlanta, Chicago to Cincinnati, Chicago to Cleveland, Chicago to Dallas, Chicago to Detroit, Chicago to Los Angeles, Chicago to Miami, Chicago to Milwaukee, Chicago to Minneapolis & St. Paul, Chicago to New York, Chicago to Orlando, Chicago to Philadelphia, Chicago to Pittsburg, Chicago to Sacramento, Chicago to Salt Lake City, Chicago to San Antonio, Chicago to San Diego, Chicago to Tampa and Chicago to Washington DC.
For the best service at the lowest cost; Direct Drive Logistics is the partner you want for all your shipping needs. Get a free freight logistics quote on Chicago shipments.
Over the Road (OTR) Truck
Direct Drive Logistics is a trusted ground freight management partner in Chicago providing comprehensive full truckload (FTL) and less than truckload (LTL) freight management solutions to accelerate your business. With a wide range of trailer sizes and shipping containers to meet your needs in an efficient and cost-effective way.
Full Truckload (FTL) Freight
Direct Drive Logistics is the cost-effective FTL freight shipping solution for coast-to-coast shipping. We pride ourselves on diligence and personalized service, ensuring your shipment is handled correctly and arrives at its destination safely.
Light Truckload (LTL) Freight
Direct Drive Logistics is Chicago's reliable freight management partner in volume LTL shipping. We provide custom volume LTL shipping that keeps your business running smoothly. Get the same reliable services as our FTL shipping at a lower, more affordable cost.
Expedited Freight
For the fastest, most reliable expedited freight shipping services in Chicago, call Direct Drive Logistics. We provide solutions that meet your specific needs to keep your shipment moving quickly and safely.
Refrigerated Freight
As Chicago's resource for secure and trusted temperature-controlled freight carriers, Direct Drive Logistics ensures your shipment is kept safe throughout transit and stored according to your temperature-specific specifications.
Heavy Haul Shipments
When you need heavy haul shipping solutions, Direct Drive Logistics is your solution. We find trusted heavy haul drivers across the United States to get your heaviest shipments and oversize loads delivered safely and on time.
Power-Only Freight
Direct Drive Logistics has nationwide power-only trucking options you can trust and afford. Our freight brokers work with the best owner-operators for trucking across the US to get your shipments delivered safely and on time.
Produce Shipments
Transporting produce in Chicago requires the best trucking services to get the job done well. Direct Drive Logistics is the confident choice for shipping your produce with attention to detail and care.