40 Foot Container Dimensions

CAPACITY

Useable cube (cu. ft.): 2,395

INSIDE DIMENSIONS

Length (ft.-in): 39-6
Width (in.): 92
Height (in.): 94

DOOR OPENING

Width (in.): 92
Height (in.): 90

PALLETIZED LOADS

48'' x 40'' (units): 20
48'' x 42'' (units): 20


TARE WEIGHT

Container only (lbs.): 7,500
Container w/chassis (lbs.): 14,300

The 40 ft intermodal shipping carrier offers 2,395 cubic feet of usable storage for your goods. It will hold 20 pallets of either standard sized 48"X40" or 48"X42" units. If you need a larger size container you might wind up with the more common 45 foot and 53 foot intermodal shipping containers. 20 foot shipping containers also exist. Intermodal shipping allows you the flexibility of easily switching between modes of transportation. You can switch from truck to ship to train or any combination without having to perform the expensive and laborious process of unloading and reloading the container. Using multiple modes of transportation whether you are moving goods across the country or overseas allows you to save time and money.
Intermodal Domestic Shipping Solutions



Intermodal Freight Shipping Containers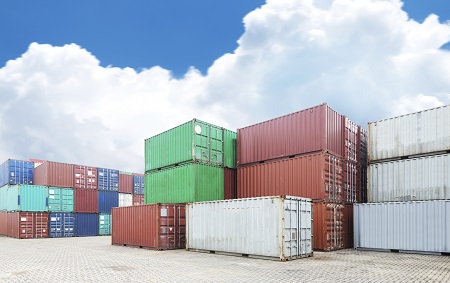 40 ft. intermodal containers ship domestic freight by rail, air or highway.
Intermodal Freight Brokers Get You High Paying 40 ft Container Loads
Our logistics company utilizes the versatility offered by 40 ft intermodal freight containers to get the absolute most return on investment in your shipping budget. We don't settle for half-full shipments and recurring problems like cross docking or deadheads. We know how to coordinate complex shipping schedules with several different brands of containers to maximize the value of your loads and get products to their destination as quickly as possible. We don't settle for anything less than only the highest paying 40 foot container loads.
The intermodal shipping experts at Direct Drive Logistics have years of experience using 20 ft, 40 ft, 45 ft and 53 ft intermodal containers to move heavy freight around the country for short and long hauling jobs. No other logistics company in North America will do more for you to ensure your freight moves quickly and efficiently. Contact our professional freight representatives for a quote on our logistics services today.
Broker 40ft container freight
BY CITY
Broker 40ft container freight
BY STATE
Get a Free Online Freight Quote for 40ft containers for nationwide shipping.