Sioux Falls Freight Broker
Logistics services >> Freight broker >> South Dakota freight broker >> Sioux Falls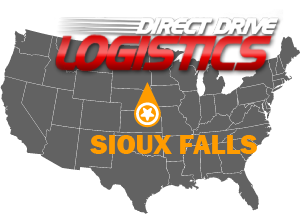 Sioux Falls Logistics Consultants for LTL and FTL Shipments
Our people provide efficient, cost-effective and timely shipping services throughout South Dakota to and from all parts of the nation. More local companies are choosing Direct Drive Logistics to improve shipping and freight handling, with cargo coming into and out of surrounding communities: Rapid City, Aberdeen, Brooking, Brandon and Harrisburg. Sioux Falls business owners know Direct Drive Logistics has developed cutting-edge concepts to take shipping effectiveness to the next level. Whether it's an FTL to Rapid City, or a semi to Brooking, Direct Drive Logistics can handle your freight shipment. In our eyes, a 53 foot long box is the same as an LTL. Our relationship with you is more important than the size of your shipment.
Direct Drive Logisctics is your source for cost-effective Sioux Falls shipping solutions. Get a free logistics quote today!
Sioux Falls freight consultants are professional and personable
Clients come to truly appreciate the calm, friendly attitude we have. When problems come, you want a calm, practical and committed voice on the other end of the phone. Our people solve problems well. We treat customers well, too.
Sioux Falls experienced consultants have seen it all
Over the years, we've developed solutions to virtually any kind of freight management challenge. You'll have peace of mind knowing if unexpected contingencies arise, you'll receive a workable list of practical, cost effective solutions. Sioux Falls can rely on our shipping experts.
South Dakota owner/operators prefer to deal Direct Drive Logistics
Owner/operators really like solid freight brokers who know how to get things done and how to keep things busy. We schedule routes carefully to keep you hauling instead of dead-heading. For more work and more profits, steer your semi over to Direct Drive Logistics.
Contact the Sioux Falls logistics brokers at Direct Drive Logistics for your LTL and FTL shipping needs.