Straight Truck Freight Brokers
Logistics services >> Freight broker >> Expedited freight broker >> Box truck broker
If you're a shipper looking for a broker to coordinate an expedited straight freight shipment at unbeatable rates, you've come to the right place.
Direct Drive Logistics brokers LTL freight transportation for larger expedited loads throughout the nation. We work directly with you, keeping track & record on your shipments progress from start to finish.
When it comes to time constraint freight shipping in your business, partner with the dedicated, efficient LTL freight brokers at Direct Drive Logistics.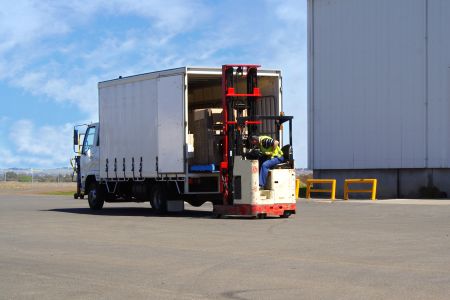 Delivering Freight Solutions at Expedited Speeds
Connect freight to the top, most reliable box truck owner-operators across the United States and internationally. Expedited freight brokers at Direct Drive Logistics coordinate reliable truck drivers and motor carriers to safely deliver your cargo, even if it's last minute.
For expedited shipping of skids or pallets, our brokers typically secure straight trucks to get the job done. These trucks have a weight capacity of up to 15,000 lbs. and trailer dimensions ideal for larger loads. Get in touch with our dedicated logistics consultants for questions about same day shipments or next day freight delivery.
Straight Truck Trailer Dimensions

Length:
22 - 26 feet

Width:
96 - 102 inches
Height:
12.5 - 13.5 feet
Max Weight:
14,000 pounds
Max Pallets:
12 Pallets
Max Volume:
Approximately 1,700 cubic feet
Commodities Hauled:
Furniture, office material, local vendor material, and much more.
Options include:
lift gates, vented trailers, and refrigeration.


3PL Supply Chain Management Brokers Offer Straight Trucks with Liftgates
Depending on your cargo, Direct Drive brokers straight trucks with conventional fold-up, rail-gate, tuckaway or dump-through liftgates. Cost-effective straight trucks with liftgates to make loading and unloading easier and to decrease the chance of injury. Loading and unloading can be a one-man operation done with pallet jacks, dollys.
Contact us today to get the expedited freight truck with lift gate you need.
Frustrated with Free Online Load Boards? You Aren't Alone.
Box trucking load boards offer a low barrier of entry into the marketplace for shipping services. However, negotiating free online load boards for over the road straight truck shipments can be overwhelming and present a host of challenges for shippers and drivers alike.
Advantages of box truck load boards:

Many are free or require only a minimal monthly subscription
Low barrier of entry into the trucking industry
Available online 24/7

Disadvantages of box truck load boards:

Many load boards are NOT free or inexpensive
You are working with people you've never met
High competition and low profit margins
You work at a lower rate
There are hundreds and hundreds…which do you choose?

Still searching for the best load board for shippers? Give us a call and trust in a freight broker who will secure great rates for expedited and hot shot cargo EVERY TIME. We find box truck drivers and owner operators with a track record of delivering freight on time with no hassle.
Broker box truck freight
BY CITY
Broker box truck freight
BY STATE
Get a free freight quote from Direct Drive Logistics straight box truck freight brokers.