Expedited & Hot Shot Freight Shipping Solutions Nationwide
Stop Sweating Over Free Load Boards – Trust in a Reliable Freight Broker
Jumping around free online load boards looking for freight carriers can be a major headache. Too often it ends up a waste of time, and the hassles just aren't worth the small cost savings.
Advantages of sprinter van load boards:
Many are free or require only a minimal monthly subscription
Low barrier of entry into the trucking industry
Available online 24/7
Disadvantages of sprinter van load boards:
Many load boards are NOT free or inexpensive
You are essentially working with strangers
High competition means very low profit margins
You work at a lower rate
There are hundreds and hundreds…which do you choose?

In a hurry? Direct Drive Logistics responds immediately to your expedited shipping needs with Sprinter van solutions.
Sprinter Vans are ideal for quick response expedited deliveries. They allow for hotshot shipments to ride directly from point A to point B, guaranteeing no cross docking and ensuring even the narrowest delivery windows are met.
Available in a range of dimensions and capacities to accommodate the majority of common expedited loads, Sprinter van carriers are a cost-effecitve option for short to long haul expedited freight. We have the Sprinters to accommodate most delivery time constraints. No matter the haul, no matter the size, and no matter the distribution window, Direct Drive Logistics delivers.
Here are the Sprinter vans compared by height and weight capacities:
Sprinter Van Dimensions
Chevrolet Express
Interior height: 51.80"
Weight Capacity: 4,145 lbs.
Mercedes-Benz Sprinter
Interior height: 78.2"
Weight Capacity: 5,508 lbs.
Freightliner Sprinter
Interior height: 63.2"
Weight Capacity: 3,213 lbs.
Ford Transit
Interior height: 81.5"
Weight Capacity: 5,550 lbs.
Sprinter Vans in Sizes for Every Load
Ford, Mercedes-Benz, Freightliner and Chevrolet all have variants of the Sprinter Vans helping you meet your expedited shipping needs. These vans offer a variety of different cargo loads, cargo dimensions, maximum cargo weight, maximum cargo volume, etc.
For example, the Mercedes-Benz Sprinter short wheel base model has a load length of 2.6 meters/8.5 feet and a maximum weight of 1,440kg or 3175 pounds. This provides enough room for 2 pallets or an assortment of shipping containers.
The larger Mercedes Sprinter medium wheel base model offers a 3.5 meter/11.5 feet load space. This is large enough for 3 pallets at a maximum weight load of 1,300 kg or 2,866 pounds.
The Mercedes-Benz Sprinter long wheel base model is the largest of the Mercedes Sprinter vans, allowing for up to 4 pallets. The load length is 4.3 meters/14.1 feet. It has a maximum weight load of 1,250kg/2756 pounds.
The latest Mercedes Sprinter Van offers even more:
Max Payload: 5,508 lbs.
Max Interior Height: 78.2"- Nearly two inches more than previous models
Cargo Volume: 329.3 cu. Ft.
2-Stage Turbocharged Diesel Engine- produces 265 lbs. per ft. of torque at 1,400- 2,400 rpm, allowing you to pull more weight.
Rear Wheel Drive

Just tell our freight logistic brokers what you need shipped and we will find the right Sprinter van for you.
Expedited Sprinter Vans Feature Hydraulic Liftgates
To reduce the risk of injury while loading and unloading, our freight brokers specify Sprinter vans with liftgates. Vans equipped with these lightweight, aluminum liftgates allow drivers and owner operators to ship hot shot and expedited freight as a one-man operation. By shipping your loads in Sprinter vans, transit time is expedited. Trust in Direct Drive Logistics, and watch your costs plummet and revenue rise.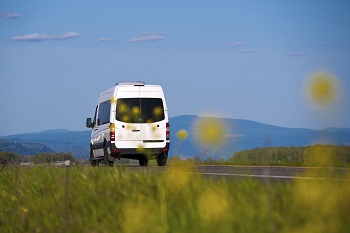 Direct Drive Logistics is your 3PL partner for all Sprinter van LTL shipping.
Your Time-Sensitive Freight Transportation Partner
We ensure your freight gets where it needs to go--safely, cost-effectively and on time. Our logistics experts will assess your expedited freight requirements and coordinate all the details. You can relax knowing our dedicated logistics staff and our proven freight management expertise will get your sprinter van load delivered.
As your partner in success, we pledge to bring any and all cost savings to your attention in order to contain your transportation costs. We will quickly and professionally deliver the Sprinter Van solution and provide around the clock freight management so you can be confident in your freight's transportation.
Whatever your shipping needs, large or small, Direct Drive Logistics has a solution. Contact our logistics team today to get started.
Broker sprinter van freight
BY CITY
Broker sprinter van freight
BY STATE
Learn More About a Partnership with a 3PL Company
Contact our expert logistics freight consultants to find a freight shipping solution to move your business forward.