Technology in the Logistics Industry: Its Role and Importance
How Do Technological Advancements Impact the Way Third Party Logistics Companies Operate?
Third party logistics companies have come a long way since only supplying truck and train delivery services. In modern times, products are manufactured in the United States and all parts of the world. Manufacturers in the US have access to a much larger selection of ground freight logistics, intermodal freight shipping, and international overseas shipping thanks to modern technology. Aside from the development of shipping technology, our ability to access consumer data and information has greatly evolved in the past ten years as well.
How technology affects the logistics industry really comes down to how third party logistics companies use new and modern technology to their advantage.
With the invention of self-driving vehicles, drones, and an entirely new era of the online shopping experience, it's become abundantly clear third party logistics companies will continue to see developments in technology for years to come.
The Hard Truth: Adapt or Get Left Behind
To be successful, a third party logistics company must be used to adapting. New inventions and technology can rattle the cages, but they represent new opportunities for truly innovative companies up to the challenge of making their services better for their customers. The advancement of technology is leading to a more efficient and competitive third party logistics industry. How exactly are companies and their partners affected by these changes?
The Effects of Evolving Technology on Logistics & Modern Transportation
3D printing. Drones. Self-driving cars. It might seem like a gimmick now, but laugh for too long and you'll get left in the dust. What technological innovation is going to have a biggest effect on the logistics industry?
Self-Driving Vehicles: Great Idea. But what's the Catch?
Whenever something new presents itself, asking questions is the key first step in understanding it before allowing our fears to take over. Self-driving vehicles are a new technology many companies are working towards mastering. By concept, it ideally eliminates the need for human intervention during travel. As a third party logistics company who employs hundreds of drivers and operators, the immediate downside is pretty apparent.
But the availability of self-driving cars doesn't mean there will be millions of unmanned trucks darting around the country anytime soon.
Self-driving technology doesn't physically eliminate the driver. A driver is always required to be present in a self-driving vehicle or truck. The future of self-driving technology in third party logistics would drive down costs, thanks to its many benefits, such as:
Higher efficiency with regulated fuel use
Improved safety during deliveries
Lower overall environmental impact
Although self-driving technology is currently being developed, there is no clear answer as to when it will be implemented into the working world. How it will affect third party logistics and delivery companies also has yet to be seen, but based on its potential to increase safety and efficiency of shipments over the road, it seems as though the future of self-driving technology in third party logistics will be cost effective for both logistics companies and their customers.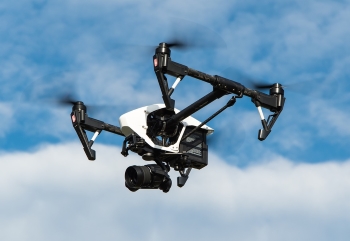 Drone technology is on the verge of bursting into mainstream logistics operations.
Delivery Drones will Open Up the Skies – Will They Shut Down the Roads?
It's no surprise with all of the news coverage and trending stories revolving around drones that we'd see a future in third party logistics with this technology. These little machines are known as military weapons and toys for our youngest generation, but one day soon, they may be recognized as a common form of product transportation as well. With their ability to move freely through the air space above our heads, drones have the potential to deliver products much quicker to urban and rural areas than their truck counterparts. Drones come in many sizes, styles, and forms, including:
Fixed-wing
Multicopter
Tilt-wing
Unmanned helicopter
The potential reach of drone technology in the third party logistics company is promising. Currently, our transportation services rely on road and water ways to deliver products to regular destinations. In a world consumed by personalization and at home convenience, the prospect of being able to supply product transportation directly to rural and urban areas or other locations not far from their destination is exciting.
What is the Future of Overseas Shipping with Logistics Companies?
Around the world, third party logistics companies are debating the current and future state of overseas shipping. For some, the inevitable collapse of overseas shipping logistics is on its way while others believe the shipping industry is just beginning to jump back from the recession. A number of advancements in technology pose a number of questions, complicating the debate even more. The type of effect even the most seemingly irrelevant technology development can have on shipping could be surprisingly impressive. In the modern world, there are a number of technologies advancing which may have a notable impact on overseas shipping, including:
3D printing
E-Commerce
Robot technology
3D Printing
The 3D printing industry is expected to be a multi-billion dollar industry after 2020 and threatens third party logistics with its convenience. There once was a time when the average Joe would have to make multiple trips to the store in a year to buy products delivered by a logistics company in order to maintain their own hobbies, but 3D printing changes the game. With consumers being able to print their own jewelry, replacement parts, toys, and other objects, the need for overseas shipping could diminish quickly.
E-Commerce
How will e-commerce affect overseas shipping? It many ways, it already has. The modern world runs on convenience for consumers. In many instances, consumers are ordering products today and expecting it to be delivered by tomorrow. These promises can't always be fulfilled by overseas shipping, leading to the opening of distribution facilities much closer to rural and urban areas. Overseas shipping will probably continue to operate as normal, but the demand for it may slightly decrease when manufacturers begin to open factories closer to distribution centers for the convenience of the masses.
Robot Technology
When it comes to robot technology, many are fearful robots will one day put millions of workers out of a job. However, much like self-driving technology, Direct Drive Logistics doesn't foresee a huge impact from the advancement of robot technology because of the continued need for human support to guarantee the success of robot operation systems. Whether we continue to hire human beings to load and drive our trucks or to repair and maintain our future robot technology, overseas shipping will likely experience a small impact by the development of robots.
The market's adjustment to mobile device usage is creating a huge demand for omni-channel logistics services.
An OMNI-Channel Era: Forcing Logistics Companies to Improve
The future of third party logistics really depends on the future of OMNI-Channel logistics. OMNI-Channel logistics are the complete opposite of third party logistics: they rely completely on the consumer to perform their own research and organize their own delivery of the products they desire to buy. Shoppers today spend a lot of time online, researching the company they'd like to buy products from and making sure they are spending their money on their favorite brand.
Customer expectations are always rising. They expect results and NO excuses. You need a 3PL nimble enough to keep up with swift changes in the ever developing market and keep your stuff moving as fast as possible.
No matter how much technology evolves and advances, the need for an outside source to handle supply chain management will remain huge. Having a professional third party logistics company like Direct Drive Logistics to handle your transportation and delivery needs is essential for saving you money on responsibilities you don't want to handle. Technology may be changing, but Direct Drive Logistics is quick to adapt.