Your California freight forwarder for global & domestic shipping
Logistics services >> Freight forwarding >> California
free freight quote
Partner with freight forwarder Direct Drive Logistics for shipping to and from California. For ground freight, ocean freight, air freight, international freight and everything in between – no one is better fit to delivery comprehensive & personal service.
Contact DDL Freight Forwarders
1-877-633-5045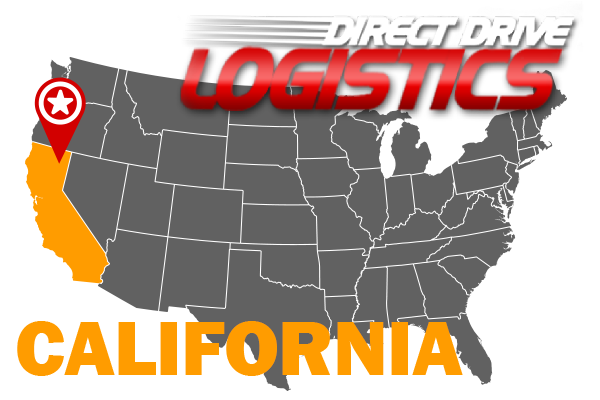 Domestic & international freight forwarding services for shipping to and from California.
California is one of the busiest states in the country for shipping, with products, equipment and raw materials constantly coming and going by truck, rail, ship and plane. As a complete 3PL provider, Direct Drive Logistics offers complete logistics solutions for everything from time-critical deliveries to a film production company in LA to coordinating ocean freight shipments to ports all over the world.
More than a fill-in shipping service, Direct Drive Logistics provides comprehensive logistics solutions, including temporary warehousing of shipments. With our nationwide network of proven, trustworthy owner operators, satellite tracking of all shipments, and a commitment to above and beyond customer service, we are a logistics company like no other.
When you work with Direct Drive Logistics, you never get passed around like a hot potato from one broker to another. You have a single point of contact throughout your shipment, providing regular updates, troubleshooting any issues that arise, and answering any questions you have.
With satellite tracking on all trucks, we monitor the progress of every shipment so you'll know where your freight is every mile of the way. And with our 99.9% claim-free delivery record, you can rest assured your shipment is in good hands.
Direct Drive Logistics freight forwarders have shipping solutions for moving cargo all over California and across the world:
Ground freight shipping
International / global shipping
Ocean freight shipping
Air freight shipping
Rail freight shipping
We are fully independently insured to minimize your costs & liability.
Many of the best & largest logistics companies in the US carry only Contingent policies that follow the form of the motor carrier's policy, which leaves you vulnerable and more liable to losses completely out of your control.
We carry our own policies for Primary cargo/auto/errors and omissions. This gives you one point of contact for all cargo claims.
You may read more details about our insurance coverage or contact us with any questions.
A freight forwarding company in California with global reach and a local touch.
Direct Drive Logistics is a freight forwarding company with unlimited capabilities and a personal approach. Real time tracking. Full comprehensive service with an emphasis on personal, from the top down. Direct Drive Logistics is YOUR California freight forwarder.
Domestic & global freight forwarding services for shippers worldwide.