Manchester, NH Freight Broker
Logistics services >> Freight broker >> New Hampshire freight broker >> Manchester, NH
free online freight quote
Connect freight to the top, most reliable owner operators across the United States for cargo moving to or from Manchester. Direct Drive Logistics coordinates reliable truck drivers and motor carriers to deliver freight safely and efficiently.
Contact DDL Freight Brokers
1-844-629-1732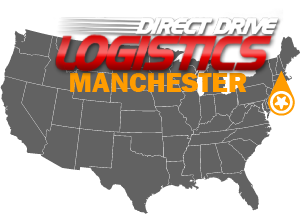 TL & LTL Freight Broker for Shipping to and from Manchester, NH
Direct Drive Logistics Manchester, NH freight brokers coordinate cargo shipments going in and coming out of Manchester, New Hampshire - at a better rate than anything you'll manage on an online load board. Our truckload brokers boast connections to the most highly reputable owner operators and motor carriers to get your freight shipped safely and securely nationwide.
Manchester Logistics Consultants Assure Shipping Cost Effectiveness
For many Manchester businesses, the way to beat the competition is with lower shipping costs and effectiveness. It's the way it is today. Competition isn't just fierce – it's global. Cutting shipping costs is a sure path to higher profits. New Hampshire executives come to Direct Drive Logistics to get expert trucking solutions – in Manchester (or Nashua, Derry or Concord!), throughout New England, nationally and all with total focus on your bottom line. It might be a flatbed to Dover or stepdeck to Rochester. They are all the same with us – all important!
Manchester Logistics Consultants Do It All With A Smile
Another customer advantage is our attitude. We are friendly, positive and calm. Manchester shippers can really appreciate our personal, caring attention. Each Direct Drive Logistics specialist makes each of your truckloads the highest priority.
Direct Drive Logistics is your best source for fast, cost-effective Mandhester shipping solutions. Get a free logistics quote today!
Proven Results Are Generated By Manchester Freight Brokers
These Manchester area case histories depict how our expert logistics consultants give you the best route planning – presented in a way with special care which is both professional and personal. Our people are committed to provide the best freight service in the world. You'll see it in the full range of logistics solutions we provide.
Call our New England logistics consultants today. Get for a free, no-obligation estimate. Or use this website to contact us right away. You'll be glad! And by the way, go Patriots! (Or Red Sox. Or Bruins. Or Celtics).
Good Owner Operators Can Step Up To Direct Drive
Are you a solid New England owner/operator and want to work with skilled professional brokers? Do you want to deal with sharp people who know logistics? Who know how to keep your truck busy? Then contact the freight specialists at Direct Drive Logistics.
Contact our Manchester logistics team for fast, cost-effective full truckload and LTL freight shipping solutions.
Call 1.844.629.1732 to reach a
North East Broker/Logistics Representative or