Your Minneapolis freight forwarder for global & domestic shipping
Logistics services >> Freight forwarding >> Minnesota freight forwarder >> Minneapolis
free freight quote
Partner with freight forwarder Direct Drive Logistics for shipping to and from Minneapolis. For ground freight, ocean freight, air freight, international freight and everything in between – no one is better fit to delivery comprehensive & personal service.
Contact DDL Freight Forwarders
1-877-633-5045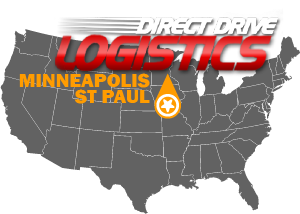 Domestic & international freight forwarding services for shipping to and from Minneapolis.
Minneapolis is known as a Midwest manufacturing mecca and is home to 16 of the Fortune 500's biggest corporations. Situated at the juncture of interstates 35 and 94, just adjacent to Saint Paul, the entire area is a bustling transportation center for the state and the entire upper Midwest.
Whether you're shipping to or from Minneapolis, look to Direct Drive Logistics. More than a "fill-in" shipper, we are complete 3PL provider of comprehensive freight forwarding services. LTL, FTL, over-the-road, intermodal, air and rail shipping—we handle it all, even international shipments.
With a nationwide network of proven, reliable owner operators and brokers who go the extra mile to get you the best rates possible, Direct Drive Logistics has shipping solutions for moving cargo all over the world, including:
Ground freight shipping
International / global shipping
Ocean freight shipping
Air freight shipping
Rail freight shipping
We are fully independently insured to minimize your costs & liability.
Many of the biggest and best known logistics companies in America carry only Contingent policies that mirror the motor carrier's policy. In a worst case scenario, this can leave you liable for losses completely out of your control. That doesn't cut it for Direct Drive Logistics, so we do things differently:
We carry our own policies for Primary cargo/auto/errors and omissions. This not only gives you better coverage, it also gives you one point of contact if you have to deal with cargo claims.
All freight transport involves taking on a bit of risk, but we do everything possible to minimize it. Our 99.9% claim-free delivery record illustrates how successful we are.
Get more details about our insurance coverage or contact us with any questions.
A freight forwarding company in Minneapolis with global reach and a local touch.
Direct Drive Logistics operates from the top down with a commitment to personalized service that's increasingly rare today.
From the time your freight leaves the dock until it arrives at its destination, you have one broker providing updates, communicating any problem that may arise and working on solutions. You'll never be passed off to another broker who doesn't know the first thing about your shipment, and with real-time satellite tracking on all shipments you'll never wonder where your cargo is.
Different, yes. Better? Absolutely.


Domestic & global freight forwarding services for shippers worldwide.