Your Denver freight forwarder for global & domestic shipping
Logistics services >> Freight forwarding >> Colorado freight forwarder >> Denver
free freight quote
Partner with freight forwarder Direct Drive Logistics for shipping to and from Denver. For ground freight, ocean freight, air freight, international freight and everything in between – no one is better fit to delivery comprehensive & personal service.
Contact DDL Freight Forwarders
1-877-633-5045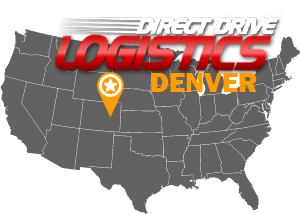 Domestic & international freight forwarding services for shipping to and from Denver.
The mile-high city sits at the intersection of interstates 70 and 25 in the north-central part of the state.
With thriving manufacturing, aerospace, defense and agricultural industries, there is a constant flow of raw materials and finished products moving through Denver—both over the road and by rail and air. Whether you need to move a dozen Bobcat loaders to a construction site in Fort Collins or a shipment of electronics parts to Belgium, Direct Drive Logistics can handle it--with professionalism and a personal touch that's all too rare in the 3PL industry.
Direct Drive Logistics freight forwarders have shipping solutions for moving cargo all over the world.
Ground freight shipping
International / global shipping
Ocean freight shipping
Air freight shipping
Rail freight shipping
We are fully independently insured to minimize your costs & liability.
Many of the best & largest logistics companies in the US carry only Contingent policies that follow the form of the motor carrier's policy, which leaves you vulnerable and more liable to losses completely out of your control.
We carry our own policies for Primary cargo/auto/errors and omissions. This gives you one point of contact for all cargo claims.
You may read more details about our insurance coverage or contact us with any questions.
A freight forwarding company in Denver with global reach and a local touch.
Direct Drive Logistics is a freight forwarding company with unlimited capabilities and a personal approach. Real time tracking. Full comprehensive service with an emphasis on personal, from the top down. Direct Drive Logistics is YOUR Denver freight forwarder.
Domestic & global freight forwarding services for shippers worldwide.