Your Florida freight forwarder for global & domestic shipping
Logistics services >> Freight forwarding >> Florida
free freight quote
Partner with freight forwarder Direct Drive Logistics for shipping to and from Florida. For ground freight, ocean freight, air freight, international freight and everything in between – no one is better fit to delivery comprehensive & personal service.
Contact DDL Freight Forwarders
1-877-633-5045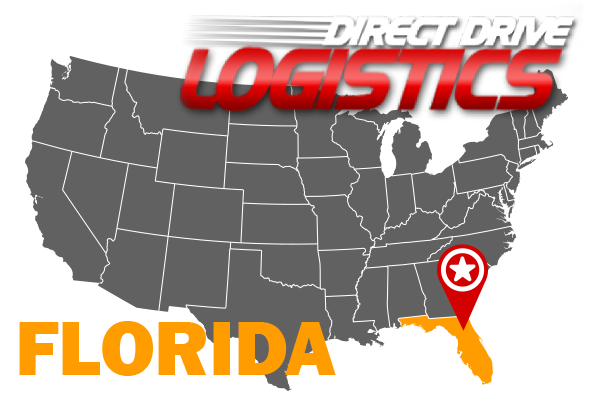 Domestic & international freight forwarding services for shipping to and from Florida.
With its highest point a mere 345 feet above sea level, Florida is the flattest state in the country. Despite the occasional torrential downpour, over the road shipping through Florida is a breeze. Though well known for tourism, Florida also has a large agricultural output (particularly citrus fruits) and its phosphate mines are major suppliers for agricultural fertilizer companies. Combine this with the need for regular deliveries to resorts and attractions, and Florida is one of the busiest states for shipping.
Whether you're shipping truckloads of perishables to resorts in Florida or need to move several tons of phosphate up to Georgia, Direct Drive Logistics will get your freight where it needs to go—quickly and cost-effectively. With a nationwide of network of proven, reliable owner operators, brokers who work to get you the best rate possible, and an industry-leading 99.9% claim-free delivery record, Direct Drive Logistics is more than just a "fill-in" shipping service. We're the 3PL provider you can count on.
Direct Drive Logistics freight forwarders have shipping solutions for moving cargo all over the world, including:
Ground freight shipping
International / global shipping
Ocean freight shipping
Air freight shipping
Rail freight shipping
We are fully independently insured to minimize your costs & liability.
Many of the best & largest logistics companies in the US carry only Contingent policies that follow the form of the motor carrier's policy, which leaves you vulnerable and more liable to losses completely out of your control.
We carry our own policies for Primary cargo/auto/errors and omissions. This gives you one point of contact for all cargo claims.
You may read more details about our insurance coverage or contact us with any questions.
A freight forwarding company in Florida with global reach and a local touch.
Direct Drive Logistics is a freight forwarding company with unlimited capabilities and a personal approach. Real time tracking. Full comprehensive service with an emphasis on personal, from the top down. Direct Drive Logistics is YOUR Florida freight forwarder.
Domestic & global freight forwarding services for shippers worldwide.