New Hampshire Freight Brokers find you reliable drivers at excellent rates
Logistics services >> Freight broker >> New Hampshire freight broker
free online freight quote
Right now, a dedicated team of freight brokers at Direct Drive Logistics is lining up proven, reliable drivers for shipments all over the state of New Hampshire. Why not yours, too? Give us a call to request a free, no-obligation quote for your freight shipment.
Contact DDL Freight Brokers
1-844-629-1732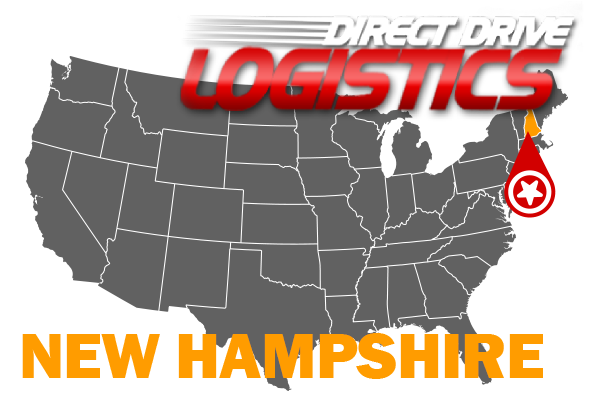 Whatever, Wherever, Whenever--Direct Drive Logistics Gets It There
No matter what you need shipped, where you need it sent and when it has to be there, Direct Drive Logistics are the masters of making things happen. Long haul or short haul, FTL or LTL, cargo vans or tractor trailers, whatever you need we'll get it lined up. And once your load hits the road, our satellite tracking will keep you updated on its status every mile of the way.
Shipping options to/within New Hampshire:
Why You're Better Off With Direct Drive Logistics than Online Load Boards
Online load boards may seem like a good idea, but they're not without their drawbacks—starting with the fact you're transacting with total strangers! Besides the hassle of negotiating a rate, there's the ever present possibility of being scammed and the inescapably worries about your freight getting damaged, lost or stolen somewhere between point A and point B. It's not worth it when you can have Direct Drive logistics broker a great rate for your shipment with a proven, reliable and, yes, an insured driver. Our 99.9% claim-free freight delivery record speaks for itself.
Direct Drive Logistics Is an Independently Insured Freight Broker
As part of our commitment to total customer service, Direct Drive Logistics carries our own insurance policies for primary cargo/auto/errors and omissions. Why would you even consider hassling with insurance coverage when Direct Drive Logistics will handle everything?
Direct Drive Logistics brokers shipment of freight to and from:
Nashua
Concord
Derry
Dover
Rochester
Salem
Londonderry
Merrimack
Hudson
…and anywhere else in the Granite State.
Just call Direct Drive Logistics, we'll take it from there.
Contact Direct Drive Logistics for a free freight quote.
Call 1.877.633.5045 to reach a
New Hampshire Broker/Logistics Representative or