Nashville Freight Broker
Logistics services >> Freight broker >> Tennessee freight broker >> Nashville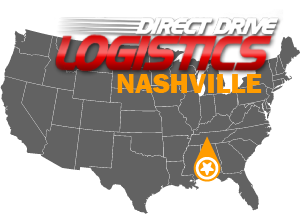 Nashville Freight Brokers handle all LTL and FTL freight
In Nashville, Direct Drive Logistics plays some beautiful music when it comes to shipping freight. Nashville companies use our freight consultants to trim costs while assuring safe, timely delivery of all cargo. To us, a small LTL load to Murfreesboro gets the same level of care as a 53-foot FTL long box to Kingsport. Companies throughout Tennessee use Direct Drive Logistics to solve their freight challenges. We serve businesses from all over the state, including Clarksville, Franklin, Lebanon. Name the place. We'll get your cargo delivered on time and on budget.
Nashville Shipping Specialists keep expenses low
Our Nashville freight experts use every trick in the book to efficiently schedule your cargo in the most cost effective manner. The key is to secure maximum cost efficiency without sacrificing quality or safety. We've been doing it for years for shipments to, from and through Tennessee, including Nashville, Franklin and Lebanon.
Direct Drive Logistics is your best source for cost-effective Nashville shipping solutions. Get a free logistics quote today!
Nashville Logistics Brokers have the experience you need
There is no substitute for practical, hands-on experience. When you need something important done, you don't want to be dealing with a rookie. You want a capable, knowledgeable shipping professional to make things right. Our Nashville freight consultants have the know-how, the skill and the ability to get your job done right. We deliver results for Nashville businesses. But we believe good results should come right along with a friendly, supportive approach. Customers appreciate our calm, positive manner. Personal attention is standard operating procedure at Direct Drive.
Tennessee Owner Operators stay busy with Direct Drive Logistics
Finding profitable work is always a challenge for owner/operators. At Direct Drive Logistics, we are freight professionals who know how to effectively work with drivers. We'll keep your truck busy hauling freight without deadheads or downtime.
Contact the Nashville logistics brokers at Direct Drive Logistics for LTL and FTL freight transportation