Maine Freight Brokers find trusted drivers at excellent rates
Logistics services >> Freight broker >> Maine freight broker
free online freight quote
If need to get something shipped anywhere in the state of Maine, let Direct Drive Logistics get you a quote. We have a network of proven, reliable drivers and owner operators throughout Maine and all across the US. Just let us know what you're shipping and when you need it shipped so we can provide you a free, no-obligation quote.
Contact DDL Freight Brokers
1-844-629-1732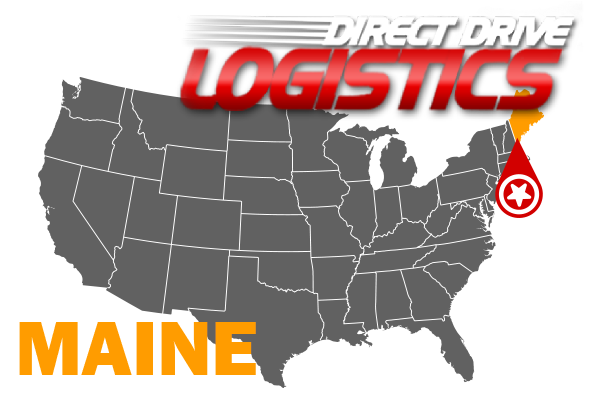 You've got options with Direct Drive Logistics
FTL, LTL, short haul or long haul, Direct Drive Logistics has drivers throughout Maine running everything from cargo vans to big rigs. All drivers we work with are vetted for reliability and safety. Whatever you need shipped, we'll make sure it gets there safely and on time.
Shipping options to/within Maine:
Why bother with online load boards when there's Direct Drive Logistics?
Lining up a driver from an online load board is always a bit of a hassle. You may save a few bucks, but the drama of negotiating a rate and the worry of dealing with a driver you have no previous experience with just isn't worth it. With Direct Drive Logistics, you can count on a proven, trustworthy driver every time. Our 99.9% claim-free freight delivery record speaks for itself.
We are an independently insured freight broker
Direct Drive Logistics carries our own policies for primary cargo/auto/errors and omissions. When you contract with us for your freight, there's no need to get coverage or outsource insurance claims. You'll spare yourself the additional expense and time consuming paperwork when you work with Direct Drive Logistics.
Prompt freight brokerage for shipments throughout Maine:
We'll arrange shipment of your freight to and from:
Lewiston
Bangor
South Portland
Auburn
Biddeford
Sanford
Brunswick
Scarborough
Saco
…and anywhere else in the Pine Tree State.
Just call, we'll take it from there.
Contact Direct Drive Logistics for a free freight quote.
Call 1.877.633.5045 to reach a
Maine Broker/Logistics Representative or