Your US broker for import & export customs clearance – for shipping to and from Memphis
Logistics services >> Customs broker >> Tennessee customs broker >> Memphis customs broker
free freight quote
Direct Drive Logistics is YOUR Memphis customs brokerage for shipments across the border to Mexico, Canada, and overseas for international ocean freight. We handle the required clearance permits & documents for imports & exports - and ensure shipments are 100% independently insured with on-time shipping at the lowest fees/rates.
Contact DDL Customs Brokers
1-877-633-5045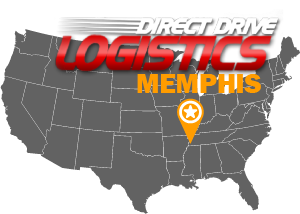 Clearance customs services for international shipments from a trusted USA broker
Clearing customs requires a broker with all the necessary qualifications to ship freight in and out of the country. Compliance is crucial, and you'll need a customs broker with complete qualifications to handle the job with 1) the least hassle 2) the lowest rates.
We are your around-the-clock manager for international shipments – a customs import/export broker to facilitate information about shipments and review their progress. Direct Drive Logistics, as a licensed (Mexico only) customs broker, is required to have a valid Power of Attorney on file in advance of any business on the behalf of the importer. We've dotted our I's and crossed our T's.
Forms & documents needed for import/export clearance
From Memphis to Canada

Certificate of Origin
Canada Customs Invoice
Bill of Lading

From Memphis to Mexico

Commercial Invoice
Mexico Bill of Lading Instructions in both English and Spanish
Mexico Bill of Lading
Shipper's Export Declaration (filed on the Automated Export System, AES)
NAFTA Certificate of Origin
Our Laredo, TX location strategically positions us for Mexico-bound shipments
Moving freight in and out of Mexico can be a mess of fees, documents and unclear requirements if you don't know exactly what you're doing. Our everyday duties include smoothly negotiating freight shipments over the border and all the management coming with it.
We staff Spanish-speaking & bilingual customs brokers and Memphis freight forwarders to ease communication with agents & companies on either side of the border.
From departure to delivery, Direct Drive Logistics is your partner for customs clearance. The meaning of great service is PERSONAL tailored service – and that's what you get with Direct Drive Logistics.
Request a free online freight quote from Direct Drive Logistics – a customs broker will respond within 10 minutes.