St. Paul Freight Broker - get a FREE freight quote in 10 minutes or less
Logistics services >> Freight broker >> Minnesota freight broker >> St. Paul
free online freight quote
Connect freight to the top, most reliable owner operators across the United States for cargo moving to or from St. Paul. Direct Drive Logistics coordinates reliable truck drivers and motor carriers to deliver freight safely and efficiently.
Contact DDL Freight Brokers
1-877-633-5045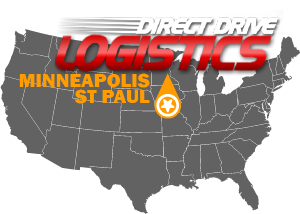 TL & LTL Freight Brokers for Shipments to and from the Twin Cities
Direct Drive Logistics Minnesota freight brokers have connections to the most reputable truck drivers and owner operators across the US. When you're looking for the best rate on OTR truckload shipping in and out of Minneapolis & St. Paul, the brokers at Direct Drive are your first call.
St. Paul Logistics Consultants serve you well
In today's world, shipping is often international. But it's also local - to Rochester, Duluth or St. Cloud. So is competition international as well as local. How have these Minneapolis/St. Paul businesses cut shipping costs to boost profits? They developed shipping effectiveness by coming to Direct Drive Logistics for expert full truckload (FTL) and less than truckload (LTL) freight shipping solutions. They know our superb consultants provide highly dependable, flexible shipping -- in Minnesota, the Midwest, nationally and anywhere else in the world! Whether it's a 53 foot long box to Bloomington or an LTL to Brooklyn Park.
There are always more benefits when dealing with Direct Drive, some of them unexpected. We know "Minnesota nice!" Minneapolis shippers often deeply appreciate the personal, caring and friendly attention of each Direct Drive Logistics specialist. We're a friendly company which wants to be a genuine, positive partner with you for your success. Truly, your success is our success. We do it all while keeping costs – and everyone's blood pressure – as low as possible.
St. Paul Logistics Consultants already did what you need
These Minneapolis/St. Paul area case histories show how our expert logistics consulting provides solid, effective planning -- combined with direct, constant personal attention until your shipment is delivered. You'll see the range of freight and shipping solutions we've provided.
Call our Minneapolis/St. Paul logistics consultants today for a free estimate for your load or contact us via this website to discover your solution. And by the way, go Vikings!
Contact Direct Drive Logistics for fast cost effective freight shipping solutions to and from St. Paul.
Call 1.877.633.5045 to reach a
St Paul Broker/Logistics Representative or