Cincinnati Freight Broker
TL & FTL Freight Broker for Cincinnati Shipments - Outgoing and Incoming
Manufacturers and companies shipping freight nationwide trust Direct Drive Logistics truck load brokers to coordinate timely and cost-limiting shipments. We offer access to some of the finest owner operators and truck drivers across the country - at unbeatable rates. Better than anything you'll find on a free truck load board. Give us a call for a quote.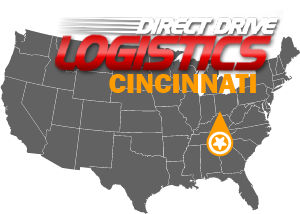 Cincinnati Logistics Consultants subtract your stress and add to profits
Every Cincinnati business wants to boost profitability. Every Cincinnati business also wants to improve shipping effectiveness. So local companies take a big step towards success by coming to Direct Drive Logistics for expert full truckload freight shipping solutions. Our Ohio logistics brokers provide highly dependable, flexible shipping for full truckload (FTL) and less than truckload (LTL) cargos – starting in Dayton, Hamilton or Mason, or throughout Ohio, regionally, nationally and all cross the globe. Whether it's a 53 foot long box to Milford or a hot shot load in a Step deck to Wilmington.
Cincinnati Logistics Consultants treat you and your staff right
There's more. Cincinnati shippers really appreciate the personal, caring attention of each Direct Drive Logistics specialist. We are not only totally committed to our customers, we genuinely like them. We want to be friendly partners. Your success is our success. These Cincinnati case histories show how our expert brokers expedite solid, effective planning for every load -- combined with a genuine desire for you to succeed. We'll fight for you ... and be friendly to you.
Cincinnati Logistics Consultants are known for great results
Look over these case histories to see the wide range of logistics solutions we've provided. Then call our Ohio logistics consultants today for a free estimate or contact us via this website to discover your solution.
And by the way, go Reds!
Owner Operators should drive directly to Direct Drive
Any available owner/operator worth his or her salt wants to deal with professional brokers who know logistics. Why not let us find a way to keep your trailer busy hauling freight instead of deadheading back home? Contact the friendly and dependable experts at Direct Drive Logistics.