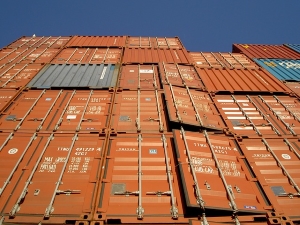 53' high cube intermodal shipping containers move freight all over the US.
The great benefit of using our intermodal shipping containers is it gives you the option of multiple modes of transportation without having to unload and reload the containers. Call our freight brokers today to help you find the most efficient and expedited route to transport your goods. We can get you the highest paying 53 foot trailer loads.
The 53 foot container is designed for domestic transport. It is THE most common type of container used. Another common length is the 48 foot container. International shipments use 20 ft. and 40 ft. containers. These are small enough to stack more of on a freight ship. Domestic containers are also wider than international containers by 6 inches. Simply put, for domestic transportation 53' containers offer the most space for your cargo both in length and width.
A 53 ft shipping container is considered a "high cube" container. This provides you with an expansive amount of storage room, typically measuring 9'6" tall on the exterior, which is 1 foot taller than standard height containers. For all your shipping needs, from transportation to Houston or Cleveland, rely on Direct Drive Logistics to find a cost-effective shipping solution for your company needs. We serve cities throughout North America: