Partner with a Illinois 3PL logistics company with national & global reach
Logistics services >> Illinois logistics company >> Chicago logistics company
Direct Drive Logistics is your partner for shipping & transportation services from Illinois and to Illinois. Our services range from brokering international & domestic freight to full-service 3PL management. As your dedicated logistics company, we are your single point of contact for all shipments coming to or from Illinois:
We are independently insured. We carry our own policies for Primary cargo/auto/errors and omissions. This gives you ONE point of contact for all cargo claims.
Real-time tracking. We offer easily accessible real-time tracking on all shipments so you have complete assurance in the safety and timeliness of deliveries.
One-on-one personal service. The biggest logistics company in the world will bounce you around a handful of reps who have no relationship with you or your company. DDL interacts on a personal, respectful and 100% platform with every account on every delivery.
free online freight quote
As your trusted third party logistics company, Direct Drive Logistics is your partner for handling every aspect of your logistics operation.
Contact Direct Drive Logistics
1-877-633-5045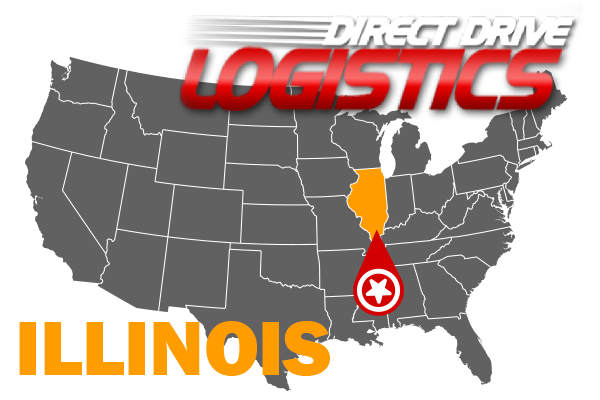 Comprehensive freight logistics for businesses to or from Illinois
Direct Drive Logistics is flexible to accommodate your business' needs – whether it's brokering a single domestic shipment to or from Illinoi or forming a full-fledged 3PL partnership with diverse needs in trucking, air, ocean, or rail freight.
DDL Full Service Logistics Provider for Illinois Shipments
Consult with our Logistics department to get your shipping needs handled. DDL capabilities range across brokering, logistics, consulting and more. We work with you to:
Find the best rates on Illinois Warehousing & storage for your shipments
Distribute shipments throughout Illinois with brokered carriers
Help fulfill contracts and deadlines at lower rates than big box logistics companies
We are exactly who you need us to be. Contact DDL to discuss how we can help you accomplish the shipping needs of your business.
International network of carriers
Direct Drive is prepared to handle shipments of all shapes and sizes using a variety of shipping containers. We work to connect you with international carriers, independently owned operators, or our own DDL trucking fleet. If you need a carrier for your Illinois shipment, we have your solution:
Full service 3PL suppliers for Illinois businesses
We are a 100% independently insured logistics outsource solution for any industry doing business in Illinois:
Food & Produce shipments
Retail product shipments
Medical & Pharmaceutical transportation
Industrial shipping
Bulk Automotive shipping
Small business shipping
Military & Government international/intermodal shipping
Your Partner for US Domestic & International Freight Solutions
We're located in the U.S but our logistics reaches international borders. If you're shipping internationally from Illinois, or want customs brokering to Illinois, get in touch for a FREE quote on logistics services for your freight.