Partner with a Colorado 3PL logistics company with national & global reach
Logistics services >> Colorado logistics company >> Denver logistics company
Direct Drive Logistics is your partner for shipping & transportation services, from freight brokerage all the way to full service 3PL management. As your dedicated private independent logistics company, we are your single point of contact for all shipments coming to or from Colorado.
We are independently insured. We carry our own policies for Primary cargo/auto/errors and omissions. This gives you ONE point of contact for all cargo claims.
Real-time tracking. We offer easily accessible real time tracking on all shipments so you have complete assurance in the safety and timeliness of the delivery.
One-on-one personal service from our Denver office. The biggest & largest logistics companies in the world will bounce you around to a handful of reps who have no relationship with you or your company. Our service is personal, respectful, and 100% accountable from delivery to destination.
free online freight quote
As your trusted third party logistics company, Direct Drive Logistics is your partner for handling every aspect of your logistics operation.
Contact Direct Drive Logistics
1-884-883-2473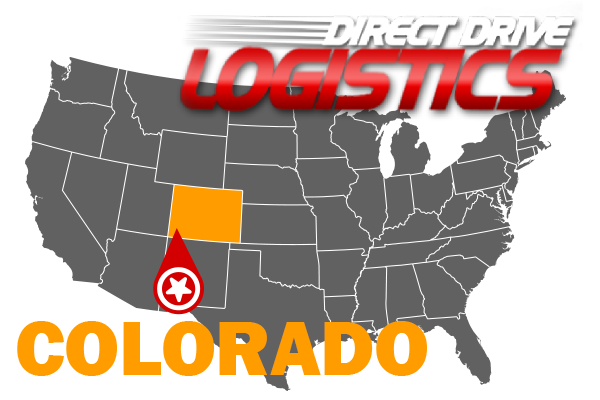 Logistics services & support in Colorado for large & small businesses
Direct Drive Logistics is flexible to accommodate your business' needs – whether it's brokering a single domestic shipment to or from Colorado or forming a full-fledged 3PL partnership with diverse needs in trucking, air, ocean, or rail freight.
We work with companies across the country as a logistics service provider. For your shipments in and out of Colorado, we:
Match vetted drivers from our carrier network to your transport needs
Track your shipments in real time with satellites
Obtain warehouse freight storage
Match your shipment with the best transport method for the specific situation
Expedite the freight's arrival with strategic route selection
Do you need reliable shipments to and from Denver, Fort Collins, Boulder, Colorado Springs, Grand Junction, or Pueblo – and logistical strategies that minimize costs without cutting corners? Direct Drive Logistics can help.
Direct Drive Logistics is a Full Service Logistics Provider
Tell us what you need, and we'll handle it. DDL has more capabilities than any other in supply chain management including:
Fulfillment
Warehousing & storage
Distribution
We are exactly who you need us to be. Contact us to discuss how we can help you accomplish the shipping needs of YOUR business.
A Larger Network of Carriers Allows for More Shipping Capabilites
– in Colorado & Beyond
DDL is prepared to handle shipments of all shapes and sizes using a variety of shipping containers. From our connections in Colorado and across the nation, to top independently owned operators, to our own asset-based trucking fleet; DDL has the solutions for you.
Full service 3PL suppliers for businesses across a variety of US industries
Direct Drive Logistics is a 100% independently insured logistics outsource solution for companies in many different industries.
Food & produce
Retail
Medical
Industrial
Automotive
Pharmaceutical
Small business
Military & government
Your Partner for US Domestic & International Freight Solutions
Located in the United States, Direct Drive Logistics boasts the reach of an international American logistics company with local personal service that can't be matched.
For the best service at the lowest cost, Direct Drive Logistics is the partner you want for all your Colorado shipping needs.