Connecticut Freight Brokers Find You Reliable Drivers at Great Rates
Logistics services >> Freight broker >> Connecticut freight broker
free online freight quote
Direct Drive Logistics is a freight company handling cargo shipping to or from Connecticut. DDL offers a free quote on the lowest shipping rates for quality cargo shipping, by means of expedited transfer, cargo van, intermodal and flatbed freight.
Contact DDL Freight Brokers
1-877-633-5045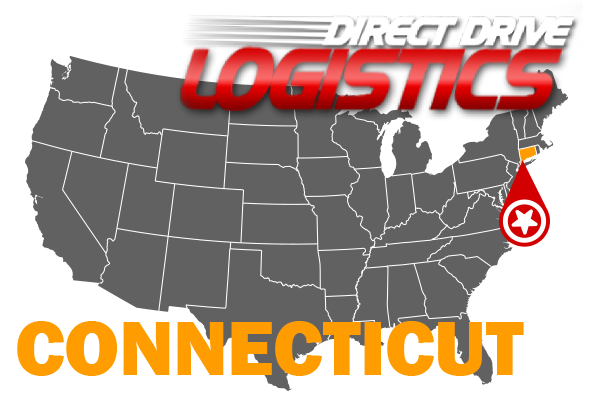 Connecticut freight brokers know the drivers you need
Direct Drive Logistics has connections to trustworthy & reputable statewide and national freight carriers. This makes it easy for you to find the shipping option that works best for you and your cargo. All it takes is a call for a free quote on an unbeatable rate.
Knowing our drivers are the best in the industry means you don't need to worry about who you can trust with your freight. All of our shipping services are closely monitored for consistent reliability.
Shipping options to/within Connecticut:
Skip the free online load board search
Online load boards can help facilitate shipments, but cannot guarantee the reliability of the owner operator or provide long term shipping solutions.
A dedicated logistics broker like Direct Drive Logistics picks the best driver most suitable for your specific freight so you don't have to. Using an online load board adds paperwork, inconvenience and added expenses. We do it all for you.
No Need for Additional Insurance Costs
We are independently insured. That means driver insurance is not your responsibility, not to mention another saved expense. We have our own policies for primary cargo/auto/errors and omissions insurance to save you time and effort. No matter where your shipments are headed, we take care of it.
Our expedited shipping services to/within Connecticut include:
Bridgeport
New Haven
Stamford
Hartford
Waterbury
Norwalk
Danbury
New Britain
West Hartford
Greenwich
… and anywhere else statewide and nationally.
Request a free freight quote from Direct Drive Logistics nationwide logistics brokers.
Call 1.877.633.5045 to reach a
Connecticut Broker/Logistics Representative or